Twelve Scents of Christmas (part two)
Christmas wouldn't be Christmas without the scents and aromas which are ever so important at this time of the year.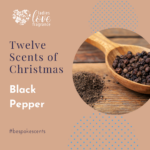 Day Seven – Black Pepper (Piper nigrum)
A popular spice oil in the apothecary and popular ingredient in perfumery.   The peppercorns are crushed and steam distilled to extra the essential oil.  Like the other spice oils, it can be a skin irritant so a little goes a long way.
It's especially popular with clients who've asked for support with muscular aches and pains as the scent does not take away the beautiful floral aromas they love so much.  Instead the scent offers a lift, often reducing the sweetness of Rose, Jasmin and Neroli and instead offers a subtle hint of freshness to enhance the clients' personal formulations.
Day Eight – Ginger (Zingiber officinale)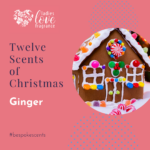 During the festive season the scent of ginger is synonymous with Gingerbread especially the fun of making and decorating Gingerbread Houses (a Christmas tradition we do every year with the children).  The ginger spice is extremely popular in culinary purposes.
Like the other spice oils featured during the Twelve Scents of Christmas, Ginger has always been a popular ingredient in luxury massage oils supporting clients who've experienced stiff and sore neck and shoulders, lower back ache, tired and sore legs.  Feedback has always been they feel better afterwards and often with improved flexibility, relaxed and lighter feeling muscles with reduced pain and discomfort.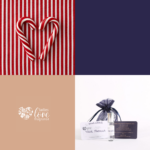 Day Nine – Peppermint (Mentha piperita)
Think of American candy canes and after dinner mints.   Over the years many clients have commented their bespoke luxury body oils have reminded them of dinner mints especially in bespoke blends and recipes for morning and daytime use.   The scent of Peppermint can be very stimulating and would not be appropriate for evening use unless you have to concentrate and stay awake late into the evening.
Peppermint is featured in the Botanical Mood Bar because of its mood boosting refreshing, uplifting and invigorating scent and many say it helps to improve their concentration.
In skincare, it can initially have a cooling effect quickly followed by a warming effect therefore much care is taken when dispensing for clients at the Botanical Mood Bar.
Day Ten –  Nutmeg (Myristica fragrans)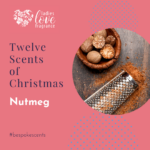 Has a beautiful sweet warm spicy aroma and originates in the West Indies and Indonesia.  During the festive season, ground nutmeg is found in a plethora of recipes for seasonal Christmas Puddings and the American favourite, Eggnog.  It also features as a garnish for hot chocolate.
Medicinally, Nutmeg is featured in the British Herbal Pharmacopoeia for being helpful for digestion.  In aromatherapy, the essential oil may be used in a similar way and blends beautifully with the popular orange family citrus oils.  However care has to be take and it's one to avoid during pregnancy.
Day Eleven – Vanilla (Vanilla planifolia) 
The worlds' favourite smell especially for food and fragrance.  Technically there's no essential oil of Vanilla.  Instead, Vanilla is an absolute.  Cultivated by farmers in Sri Lanka, this stunning natural scent has become extremely expensive in recent years due to the high incidence of poaching.  Many farmers now have to employ security staff to guard their crops.
In absolute form it's quite bitter and it's not until the absolute is highly highly diluted that it takes on the scent which so many people worldwide love and enjoy.  In aromatherapy it's considered an aphrodisiac.  During the festive season vanilla or it's key aroma chemical vanillin is used to flavour many festive recipes including cakes, marshmallows floating on top of hot chocolate and of course, in chocolate itself.
Day Twelve – Pine (Pinus sylvestris)⁠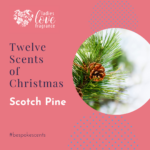 ⁠Pinus sylvestris, the botanical name for Scotch Pine, Scots Pine and Norway Pine who yield an essential oil from the wood, twigs and needles (turpentine) and needles. The essential oil produced by the needles is used in aromatherapy and resides in the apothecary.⁠  It's a stunning scent to have within your home especially during the festive season so you can get the wonderful essence of Christmas tree – real or artificial inside your home. Sometimes artificial trees need an extra helping hand and aromatherapy can help to do just that.
⁠For authentic scents pop a couple of drops of essential oils onto dried pine or spruce cones and place them higher up on your tree out of reach from children and pets.⁠  In aromatherapy Pine is often used to help reduce stress and tiredness and for helping to keep sniffles at bay.⁠