Click image to play video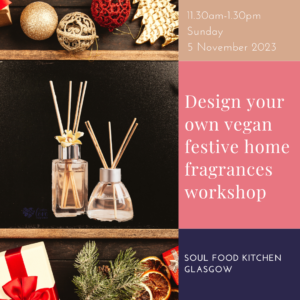 Date: Sunday 5 November 2023
Time: 11.30am for 2 hours
Location: Soul Food Kitchen, Glasgow  G3 5TQ
Christmas isn't Christmas without the stunning and memorable scents of the festive season. Instead of buying ones from a shop why not learn how to create your very own and replicate it in the future for a fraction of the cost of the leading brands.
At this workshop you'll be guided as you choose your favourite natural vegan friendly scents to custom craft and blend your own bespoke festive scented reed diffuser which will not only smell wonderful and get you into the festive vibe, you'll also benefit from the power of aromatherapy in the days and weeks to come.
Are you starting to smell the sweet orange, lemon, clove and cinnamon scents coming your way?
Unleash your inner perfumer:  Craft a vegan-friendly home fragrance for the Festive Season
Are you ready to embark on an olfactory journey that will not only infuse your home with the scents of the festive season but also align with your eco-friendly values.  Let's embark on a fragrant journey at this hands-on workshop where you'll become a perfumer, crafting vegan-friendly home fragrances using essential oils and natural ingredients.
WORKSHOP HIGHLIGHTS
Festive Season Magic
Immerse yourself in the winter season spirit as you explore the scents that evoke memories from the special time of the year.  This workshop is the perfect way to kick-start the festive season with an aromatic bang!
Hands on Experience
Dive right into the world of perfumery as you carefully select and blend your preferred scents. Whether you're drawn to the warm comforting notes of cinnamon and clove or the fresh invigorating aromas of citrus and pine, you'll create a fragrance that resonates with your personal style.
Vegan-Friendly Creations
Discover how to design home fragrances that are not only kind to the environment but also cruelty-free.  We'll teach you know to select and blend essential oils that are 100% vegan, allowing you to enjoy a clean conscience along with delightful scents.
Learn from the Experts
Our experienced instructor, Alison MacColl brings 30 years' experience working with aromatics, and she'll guide you through the art of creating enchanting fragrances that capture the essence of the season.  She'll share her knowledge of essential oils and natural ingredients, ensuring you make the most of this indulgent aromatic experience.
Take home your creations
At the end of the workshop, you'll leave with two exquisite creations: a natural vegan-friendly reed diffuser and a festive potpourri that will infuse your home with the spirit of the season.
Who should attend
Adults 18+ with a passion for home fragrance and eco-friendly living
Those who appreciate the power of natural scents and essential oils
Friends and family looking for a fun and memorable activity to share
Who shouldn't attend
Anyone with allergies or sensitivities
Materials provided
A selection of essential oils and natural ingredients
Glass container for your reed diffuser and reeds
Instructional materials and guidance from our expert
Course fee – £60 includes all materials and a welcome drink
Reserve your spot
Don't miss this opportunity to immerse yourself in the world of vegan-friendly home fragrance creation.  Limited spots area available, so secure your place now by booking or contacting Soul Food Kitchen today.
Join us in making this festive season truly special by crafting scents that will fill your home with warmth, love and the magic of the season.  We look forward to creating fragrant memories with you!
Let's make this festive season aromatic, eco-conscious and unforgettable!