Design your own natural vegan friendly mood boosting perfume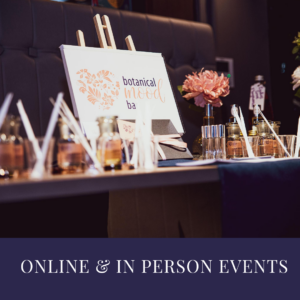 Inspired by our corporate wellbeing solution, the Botanical Mood and Sleep Bar, you're fully in control to design and create your own 10ml natural aromatherapy based wellbeing perfume.
Before selecting the scents you love (don't worry if you'd like guidance with this – we have you covered), you'll complete a brief questionnaire before your mini consultation to ensure all formula's are designed to suit your personality, your lifestyle and your wellness aims.
Our in person and online consultations are confidential taking into consideration your health and wellbeing needs, medical history, empowering you to decide on the mood you wish to create.  Examples are:-
Invigorating
Refreshing
Focussing
Calming
Soothing
Relaxing
Sleeping
Choose your mood
Personal alcohol-free rollerballs are shipped to your home address in the United Kingdom by first class Royal Mail.  Choose Mood Boost or Sleep Boost.
Order a Gift Voucher for yourself, your friends and family – Design your own Mood Boosting Natural Aromatherapy Rollerball Perfume
We welcome corporate enquiries at all times as part of your  staff wellbeing programmes and offer our in-person experiences as a main feature at your corporate entertainment event.  It also works well with activities such as gin tasting and cocktail making.  It is especially suitable for events where guests are mingling or arriving at the 'bar' in small groups.  The Botanical Mood & Sleep Bar is suitable for entertaining clients, staff rewards and incentives in Glasgow, Edinburgh and major cities throughout Scotland.
Contact Alison at Complement Your Health regarding pricing and availability alison@complementyourhealth.com  or schedule a call back on 0131 334 1311.