Twelve Scents of Christmas (part one)
Christmas wouldn't be Christmas without the scents and aromas which are ever so important at this time of the year.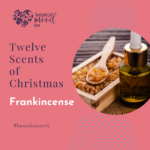 Day One – Frankincense (Boswellia carterii) was one of the three gifts for baby Jesus from the three wise men. For centuries Frankincense has been synonymous with churches worldwide.  The tree resin is steam distilled to obtain the essential oil. In aromatherapy Frankincense is one of the most useful and often popular essences to help with deep relaxation helping clients achieve a meditative state and ultimately quality sleep.  For the past 25 years it's always featured in my clinics. It was very popular at the specialist clinics where clients were referred for help with anxiety, depression and stress.  I love blending Frankincense with citrus scents which are popular with clients in our Mood and Sleep Bars.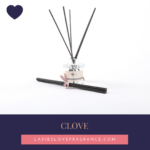 Day two features Clove (Eugenia caryophyllus)⁠.  There's two types, Clove Leaf and Clove Bud with the later being more appropriate for aromatherapy use.⁠  ⁠It's popular as a culinary spice, ingredient in festive mulled wine and synonymous with the festive season. It's a key ingredient in our Limited Edition Festive Spice Room Diffuser.  In aromatherapy it's been a popular oil with clients over the past 24 years especially in massage preparations where clients have experienced aches and pains in their lower back, neck and shoulders, legs and feet.⁠ Due to its high eugenol content (aroma chemical), a recognised skin irritant, professionally diluted and blended in the correct and safe proportions, many clients have reported positive results and relief from their sore, tired and achey muscles.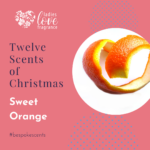 Day Three – Sweet Orange (Citrus sinensis)⁠.  Who remembers receiving a small orange in their festive stocking on Christmas morning?⁠
⁠In festive Christingle Services the orange represents the world.⁠  The fruit is from an evergreen tree which grows in hot, sunny countries as China, USA – Florida and California, Spain, Italy and France. The citrus oils are stored in the rind of the fruit and freshly expressed or squeezed until pressure to extract the oil.⁠
⁠The scent is extremely popular with clients and it's like a hug in a bottle, especially for its mood boosting abilities and was a firm favourite during the specialist clinics where clients were referred for help with anxiety, depression, stress-relief and sleep. ⁠  As well as stable in the apothecary it's a firm favourite in our Mood and Sleep bars and features in the Limited Edition Festive Spice Room Diffuser and our virtual Design Your Own Home Fragrance virtual workshop.⁠ ⁠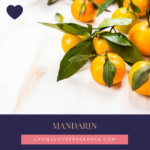 Day Four – Mandarin (Citrus reticulata)⁠, similar, yet softer and gentler than it's cousin Sweet Orange, (Citrus sinensis).   ⁠The mandarin fruit has its origins in China where it was traditionally gifted to their Mandarins. It was introduced to Europe in the 18th century and today grows in Italy, Greece, Spain and the USA states of California and Florida.⁠  It's a popular ingredient in the apothecary and is considered a safe oil to use for all including children to help with stress and sleep. It features in the design your own natural sleep boosting aromatherapy rollerball.⁠  The fruits are full of vitamin C which is super to help boost our immune systems at this time of year.⁠  What is your favourite citrus fruit?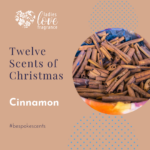 Day Five – Cinnamon (
Cinnamomum zeylancium
)⁠.  There are two types of Cinnamon – Leaf and Bark.⁠  Essential oils extracted from the Leaf is used in aromatherapy and the Bark is highly diluted in perfumery. The Cinnamon featured in the apothecary is from Sri Lanka where it was first grown.⁠  Cinnamon Leaf has a warm and rich aroma which adds warmth and depth to aromatherapy and perfumery blends. Like many of the spice oils, it can be a skin irritant and a little goes a long way. ⁠  ⁠
It's a favourite in the apothecary particularly for bespoke luxury massage oils to help soothe client's tired, achey muscles and is always a popular scent during the festive season and features in our
Limited Edition Aromatherapy Festive Spice Reed Diffuser
.⁠ Click on picture to Buy whilst stocks last.
Day Six – Myrrh (Commiphora myrrha)
Similar to Frankincense (featured on day one of the series), Myrrh is steam distilled from the resins of the tree.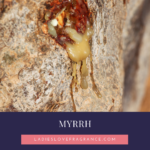 It's known for being a gift brought to Baby Jesus from the Three Wise Men and is documented for being a key ingredient used by Egyptian's for embalming and formulating cosmetics and perfumes.   It's had appearances over the years in my clinics helping clients with skin conditions and colds.