French Perfumery Making Masterclass
Alison has been helping clients design and create their very own signature scents since 2004. After enjoying this wonderful experience event, clients often return to purchase gift vouchers and perfume refills for their family and friends.  Over the years many return to create new recipes. Most new clients come through word of mouth and if you are reading this (and haven't received a gift voucher) and would like to join one of our perfume flagship design events with afternoon tea simply get in touch.    Click here to view some customer reviews.
Perfume Design
The perfume experience event runs over 2 hours and gives your nose a nice wee work out and lots of fun and laughter as you sample 21 perfume notes created by a team of master perfumes for The Perfume Studio. The perfume blends are unisex and each is a perfume in it's own right.  A great deal of time, art and science has gone into their creation so they blend extremely well with one another. Alison will guide you on an aromatic journey as you select your preferred notes whilst you immerse yourself into the world of aromatics and perfumery.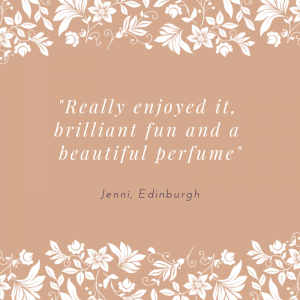 Once you have chosen your favourites, Alison will help you refine your individual blend of fragrant notes before custom blending your perfume to take away with you on the day.  Refills are available on the day and can be ordered at any time in the future.
As well as flagship events, corporate events and private celebrations such as birthday parties, bridal showers, hen parties, baby showers are available in Glasgow, Edinburgh, Stirling, Perth, Dundee, Aberdeen, Inverness and major towns throughout Scotland.
What do I do Next?
Call us on 01313341311 to have a chat about your corporate or celebration event.
Buy a Gift Voucher for one of our scheduled Flagship Events in Glasgow or Edinburgh.
Rescheduled dates will be announced as soon as the Scottish Government update our partner venues
OCTOBER 2020
11am Saturday 3 October – EDINBURGH click here to book
DECEMBER 2020