Couture fine fragrance to design your own perfume
Step into the world of perfumery and learn how to design and create your very own eau de parfum fine fragrance at our advertised masterclasses (scroll down for dates/availability) in Glasgow or Edinburgh or organise a private event with a date to suit to celebrate with your friends, family and loved ones.  We travel throughout Scotland for your private celebrations* in apartments, castles, cottages, country mansions, lodges and hotels.  We can also host your event at our partner venues in Glasgow and Edinburgh.  Simply get in touch by phone or email and we'll help.
We've helped scent connoisseurs like you, design and create their own perfumes since 2004.  With so many notes to chose from, no two bespoke fragrances are alike.  We'll help capture the essence of you, guiding and supporting you as you create a perfume which reflects your taste, your style and your personality.  You wouldn't want to walk into a party or function wearing the same outfit as other people in the room, so why wear the same perfume as many others?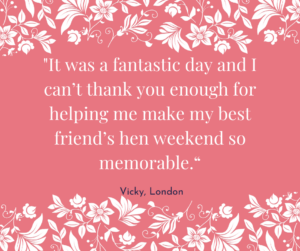 The unisex perfume notes you'll sample are all high quality eau de parfum.  These have been expertly formulated by teams of highly skilled master perfumers.  You can be as creative as you like.  Many clients have been known to design both day and evening perfumes to take away as well as perfume gifts for their loved ones.   We're on hand to give you expert guidance, when needed, to help you tweak and refine your fine fragrance.  We'll give you hints and tips to get the most from your bespoke perfume and the ones from your scent wardrobe.  Many clients celebrate with afternoon tea once they've created their perfumes and you'll receive a welcome glass of fizz or orange juice at the start of your fragrance journey at our advertised masterclasses.
After enjoying this wonderful experience, clients often return to purchase perfume refills and gift vouchers for their family and friends and many return to design a second or third bespoke perfume accompanied by their nearest and dearest.  If you would like to join one of our popular events in the future, please scroll down for our forthcoming dates and availability.  Contact us by email or, to save you time and for us to best help you, schedule a no obligation call for a time that best suits you.  With 35 years events experience and 25 years fragrance experience we are invested to make your event a great success.   Click here to view some customer reviews.
What do I do Next?
Purchase a Gift Voucher redeemable at our advertised events in Glasgow and Edinburgh or book directly via Eventbrite by clicking on the time and date below.
2023 FLAGSHIP EVENT DATES (corporate & private celebration events by arrangement)
Saturday 18 March 2023 EDINBURGH
Sunday 16 April 2023 EDINBURGH
EDINBURGH 2023 DATES TO BE CONFIRMED
Sun 16 Apr, Sun 30 Jul, Sun 17 Sep, Sun10 December
Perfume Design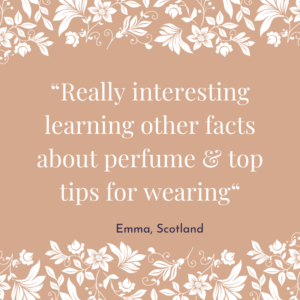 The perfume making masterclass runs over 2 hours and gives your nose a nice wee work out and lots of fun and laughter as you sample 21 perfume notes. The perfume blends are unisex and each is a perfume in it's own right.  A great deal of time, art and science has gone into their creation so they blend extremely well with one another.  You will be guided on an aromatic journey as you select your
favourite notes whilst you immerse yourself into the world of aromatics and perfumery. Once you have chosen your favourites, we will help you refine your individual blend of fragrance notes before custom blending your perfume to take away with you at the end of the workshop.  Refills and Gift Vouchers for future events are available on the day and can be ordered at any time in the future.
Virtual live workshops with kits are available UK wide for corporate and team building events for groups of ten (or the equivalent minimum spend) via Zoom with kits posted in advance.   Get in touch for more information 0131 334 1311.
Our shop is already open for Gift Vouchers for individuals and our 2022 diary is getting booked up for in person events for birthday, bridal celebrations, corporate and team building events.
As well as private celebration events we also provide workshops and pop-up scent solutions for team building, staff incentives and rewards, partner programmes, conferences and live virtual workshops with kits (UK).
* additional costs may apply to cover travel expenses

" title="