Bridal Perfume, Hen Parties & Bridal Showers

Make Your Wedding Day Even More Special with a Bespoke Perfume.  Your wedding day is a once-in-a-lifetime event that deserves to be personal and unique. One way to achieve this is by having a bespoke perfume designed exclusively for you.
Unlike a commercial perfume, a bespoke scent is crafted to reflect your personality, style, and wedding theme. It perfectly complements your dress, the flowers and the overall ambiance of your special day.
A bespoke wedding perfume is more than a personal touch, it is also a practical choice. Unlike commercial perfumes, it is subtle and elegant, enhancing your natural beauty without overpowering your senses. It is designed to last the entire day and night, so you can enjoy the scent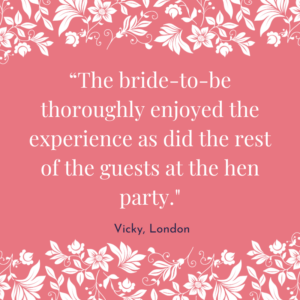 throughout your celebration.
Moreover, a bespoke wedding perfume is a lasting memory of your wedding day. It is a beautiful reminder of the love and joy shared with your partner, family, and friends. Every time you wear the perfume, you will be transported back to the magic of your special day.
Bespoke wedding perfume is a unique and unforgettable experience that complements your personality and style. It is a personal touch that enhances your special day in countless ways, and a lasting memory you will always cherish. So, why settle for a generic commercial perfume when you can have a custom scent that is as unique and special as you are?
Experience the ultimate indulgence with our Perfume Mixology Hen Party, where you'll create your own signature scent with the guidance of experts. Sample 24 of the world's finest blends and refine your custom scent to create a unique fragrance that you can wear on your special day or gift to someone special.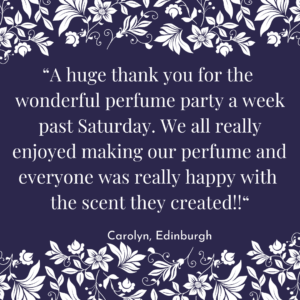 Our hen party and bridal shower packages start from £390 and are available in Glasgow and Edinburgh and throughout Scotland and can be tailored to suit any number of guests. Refills can be ordered for years to come, making it a perfect gift for birthdays, Christmas, or anniversaries. Our parties are suitable for ages 12 and above and last for approximately two hours. Events can take place at your home, an Airbnb apartment, or a function venue. Book now to receive a complimentary upgrade for the Bride to Be and a prize for the best perfume name on the day.
Advance bookings are recommended.  Contact us now to see how we can help make your event a great success or simply to request our Celebration Scent Events Brochure.