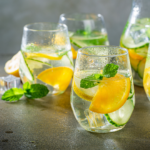 Keeping you cool this summer
Finally, the heatwave has arrived in Scotland.
Here's some top tips for keeping you and your perfumes and aromatherapy oils cool whilst we experience this heatwave.
Keep curtains and windows closed on the side where the sun shines in.
Open the windows in non-sun sides to let in some fresh air at the coolest times of the day or evening.
Wear light cotton clothes and underwear
Light colours can reflect the light/heat – think of how snow does this whereas dark colours like black absorb the heat.
Drink water to thirst and keep hydrated. Think of grapes and raisins.  Be a grape.
Drink hot cups of tea. My mum's been saying this for years.  May sound counter intuitive but the science researchers at Ottowa University discovered drinking hot drinks will make you feel warmer but then stomach sensors will make your body sweat so you'll end up feeling cooler.  Peppermint is my favourite.  Chamomile is a great one too.
Soak your feet and wrists in cool or iced water.
Prepare a basin of ice and fan the cool air around the room.
Limit physical work
Perfumes and aromatherapy oils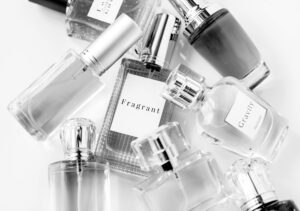 Store in a cool dark place away from windows, heat and strong sunlight.
As UK temperatures are due to be 24+ degrees – now's the time to store them in the fridge for a few days.
If you haven't got space inside your fridge then store them low down in a drawer or inside a wardrobe.
Make sure lids are secure so they don't evaporate with the heat.
Top 4 best cool eau de parfum perfume notes
Ozonic – aquatic, clean and lightly floral note with Bergamot and Calone
Tonic Sport – fresh clean note with Bergamot, Lavender and Juniper Berry
Transparent – refreshing accord with Lemon, Watermelon and Musk
Gentle Floral – with Bergamot, Green Teas and Cardamon
Bois d'Iris – graceful and serene accord with Elemi and Musk
Top 2 cooling aromatherapy oils for use in foot creams, cooling body sprays and floral waters
English Peppermint – Mentha piperita
Spearmint – Mentha viridis
Discover them blended in my new eco friendly and sustainable natural skincare brand rich moisture cream to help your feet feel fresh and nourished with sweet almond oil, avocado and shea butter.  Email for info.