In person & Virtual Live workshops to Design your own Festive Home Fragrance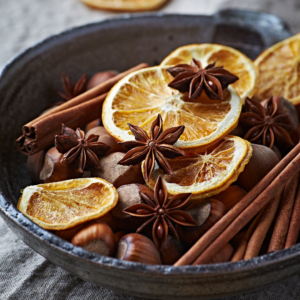 Now's the time to get the festive vibes into your home by introducing the scents of the season.  Not only are aromatherapy oils wonderful for uplifting the spirits, they are super for boosting your physical and mental wellbeing.
This hands-on workshop combines the sciences of aromatherapy & aromachology and with expert guidance, either at our in-person workshop in Edinburgh the design your own festive home fragrance experience takes place at the Novotel Edinburgh Park or with kits sent to your home address in advance of your live virtual masterclass.  You'll work with natural materials which are vegan friendly and you'll experience fun, laughter and fragrant memories as you're guided to do the hands on blending where you'll have the opportunity to ask questions as you learn and dispense your bespoke festive scented reed diffuser.  You'll capture your personal recipe details enabling you to replicate or make tweaks to your formula in the future.
Bookings close 7 days before the events are due to take place as kits will be posted.  Once this has happened no-refunds will be available.  Alternative dates including weekends are available for private groups, corporate events, incentives, conferences and team building virtual live experiences.
What do I do Next?
You can book places on our advertised events or to give as gifts for the advertised events below, please buy a Gift Vouchers for one or two.   Please get in touch to schedule a private masterclass for a group of six friends or more, corporate team building, staff incentive gifts or client entertaining event.   Kits are sent to UK postal addresses the week before your published workshop date.
What dates are available?
2022 dates will be announced Spring 2022